Sri Lanka have finally won an international tournament for the first time in 18 years. The triumph in Lahore in 1996 signalled the start of something special. The win in Mirpur 2014 signals the end of two T20 careers that have been ever-present for SL since the inception of the format. Kumar Sangakkara and Mahela Jayawardene bow out with a much deserved World T20 Championship winner's medal and a place in the nation's sporting history. They will still continue to be the glue that holds together the batting lineups in the other two formats, but for the newly crowned World Twenty20 Champions, the rebuilding process begins now, with plenty of candidates looking to step into some big boots.
Sri Lanka find themselves in somewhat of an odd position in the post-Sanga/Mahela era as they already have their replacements in place. Dinesh Chandimal will come back into the side to rebuild his stuttering reputation at his strongest position at Mahela's old slot at 3, and Lahiru Thirimanne should slot in nicely at Sanga's position of 4. Assuming that Dilshan and Kusal Perera continue to open the batting, and that Angelo Mathews moves up to 5 with Thisara Perera at 7 in front of the bowlers, that opens up the number 6 slot for an attacking all-rounder. For this position, there are three outstanding candidates.
Ashan Priyanjan
Priyanjan has not played any T20 cricket for the national side, but has shown glimpses of potential in ODI matches. A very attacking batsman; he can play shots pretty much all around the wicket. Early indications of his talent suggest an ability to play the ball late, as well as give the ball a thorough whack, but may be susceptible to short-pitched bowling.
His medium-pace needs work, but could potentially be an asset.
Angelo Perera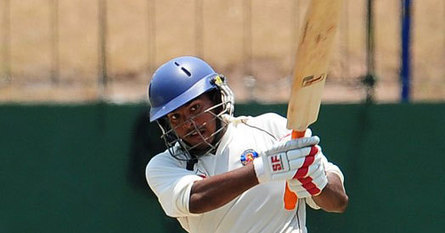 Arguably the most naturally talented of the candidates for the vacant middle-order positions, Angelo Perera is an excellent all-round player at domestic level and has the stats to back it up. Unfortunately his inclusions in the national side have been inconsistent, and he has not really taken the few chances that he did have. That said, he has only batted in one T20 and one ODI innings, and with a handful of overs bowled between them, the selectors will certainly be prepared to offer Perera more chances.
His slow left-arm bowling could be useful once Rangana Herath calls it a day, but in a side stacked with spinners who can bat (Senanayake, Prasanna, de Silva, Dilshan), it might be an attribute that isn't much needed.
Chaturanga de Silva
de Silva came into the side on the back of some useful performances for the A-side, and stacking up the runs for Moors. However, his left-arm spin turned out to be one of the most underrated components of Sri Lanka's Asia Cup win. Whilst not particularly threatening, Angelo Mathews was more than prepared to turn to the 24 year-old to use up some overs and bring the run-rate down. This then allowed the other bowlers to step in and tighten the screw. Has shown his talent with the bat with a fluent 44 against Bangladesh in Dhaka, but his performances against the England Lions showed that he can hack it against better quality bowling as well.
Primarily a middle-order batsman, he could be a candidate to replace Tillakaratne Dilshan at the top once he retires.
Kithuruwan Vithanage
Should Angelo Mathews take the number 6 spot, then there will be an opening for another specialist batsman. As the only player of this list with Test caps, Kithuruwan Vithanage could be an outside candidate for the position. He has displayed an aptitude for lower-order hitting as well as a more orthodox method, his attractive left-hand batting could be of use to Sri Lanka in the shortest form of the game. His occasional leg-breaks could also mark him as one to replace Dilshan at some point, and even if he doesn't Vithanage will continue to be a part of SL's future plans in Test cricket.
So far, I've been assuming that Dilshan and Herath will continue for the near future being part of T20 cricket. Things might be up in the air closer to the 50-over next World Cup, and certainly the chances of seeing them in national colours at the 2016 WT20 in India are slim. Sri Lanka may not need to look far for their replacements either. Lahiru Thirimanne has done well opening the batting in ODI cricket with Kusal Perera and should that form continue, could feasibly do the same job in T20s as well. Following his supposed promotion, the number 4 slot would once again become available. I'm all for pushing Thirimanne up the order right now, and dropping Dilshan down to his old slot in the middle order, but in a scenario where he has retired, perhaps a one of Vithanage or de Silva would be better suited to the role. Alternatively outside candidates such as Niroshan Dickwella and Gayan Maneeshan who have no international experience to date, could be under consideration should they continue their form in domestic cricket.
Replacing Herath could be Tharindu Kaushal who is highly rated, but has for an unexplained reason, been left out of the Sri Lanka A tour to England, despite playing against the Lions on their tour of the island in February. Akila Dananjaya who already has international experience at the age of 20 is another young spinner looking to get a more prolonger opportunity in the side.
Sri Lanka have presented plenty of opportunities to young players in the past to make a name for themselves in the national side, but have far too often discarded them onto the scrapheap after not giving them an adequate run in the side. It would be a shame to see any of these players go the same way, as they all have something to offer the side in T20 cricket. Much was made when the likes of Sanath Jayasuriya, Chaminda Vaas and Muttiah Muralitharan retired about SL having to transition into a new era without their stars. Sangakkara and Jayawardene will be playing non-T20 cricket for a while yet, and so the real test is yet to come for SL, but blooding players in the shortest format will put any outstanding candidates in a better position to make the transition into ODI cricket and then the Test side.
Sri Lanka's first Twenty20 match as World Champions will be against England on the 20th of May at the Oval. Preceding their tour of England will be two ODIs against Ireland at Clontarf on the 6th and 8th of May. A strong side will be fielded for those two games, but with Kumar Sangakkara likely to be playing County cricket for Durham in the lead up to the tour of England, we might get to see who the selectors have in mind to be his and Mahela's replacements in the T20 side as early as that.